Criminal Interdiction Unit
K-9 Phantom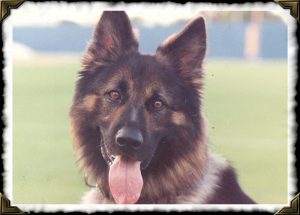 K-9 Phantom was the first K-9 in the Florida Keys. He graduated 3rd in his class at the City of Miami Work Dog School. Phantom searched hundreds of vehicles, boats and even airplanes, not only for FHP but for US Customs and DEA as well. Phantom was also credited with protecting his handler when a violator became violent after a car chase.
Phantom was assigned several VIP details including Presidential security where he and his handler guarded "Marine One" on several occasions. He even met President George H. W. Bush.
Phantom sired 12 puppies including two who also went onto serve as police K-9's for agencies in other states.
The FHP, his partner and the other State and Federal officers that knew him, miss Phantom. Phantom's handler was Trooper D. Sims. Phantom passed away on September 7, 1998.