Criminal Interdiction Unit
K-9 Lord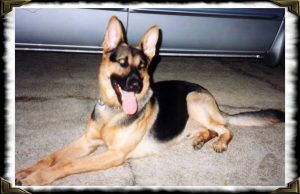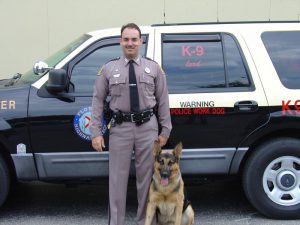 Lord was born on July 19, 1998, and was a black and tan German Shepherd. On October 11, 1999 until January 21, 2000. He attended Patrol Dog
 Training at the Florida Highway Patrol Training Academy in Tallahassee, successfully graduating with two certifications. He also completed Drug Detection Training from January 26, 2000 to March 31, 2000.
April 2000, Lord began his career as a K-9 Trooper, assigned to Trooper Daniel Davis, as part of Troop D-Cocoa in Brevard County. During his career with the Highway Patrol: Lord assisted a trooper on a traffic stop and alerted to a sealed box which contained 50 pounds of cannabis; Lord and Trooper Davis were called out to assist another agency on a traffic stop for a sniff and alerted on the vehicle where 13 kilos of cocaine was discovered; Lord and Davis were called out for another assist on a traffic stop for a sniff which he alerted on the vehicle and two hidden compartments where 28 kilos of cocaine were found; Lord was instrumental in many other arrests and apprehension of suspects.
Lord served the citizens of Florida from 1999 until his retirement in 2004. His favorite command, without a doubt was "find the bad man," he loved going to work every day. He was the most reliable, dedicated partner and best friend to Trooper Davis. Lord passed away in December 2009.