Criminal Interdiction Unit
K-9 Lobo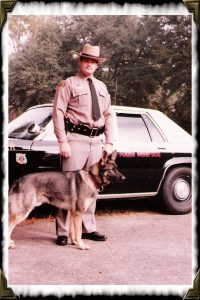 K-9 Lobo was born in Germany in 1988. He met up with his handler Trooper Chester Jackson, in Lake City, October, 1989, and started his training. By March, 1990, K-9 Lobo had finished his patrol school and drug detection school. They then hit the road in Okaloosa and Walton counties with Trooper Milton Brown and later Trooper James Burnham.
For the next six years Lobo touched the lives of many people. He provided demonstrations to many schools, church groups, and Boy Scout troops.
K-9 Lobo received four Regional Detector Dog of the Quarter awards from the United States Police Canine Association from 1990 to 1994. He contributed to the removal of $3 million dollars worth of illegal drugs from the streets and highways. Lobo was also responsible for the seizure of more then $500,000 in assets. He was involved in several riot situations, criminal apprehensions and many prison searches throughout Northern Florida.
K-9 Lobo retired in 1996 due to health problems and passed away in 2000.