Criminal Interdiction Unit
K-9 Kilo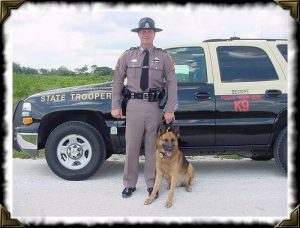 K-9 Kilo began his service with the FHP after attending Basic Patrol and Drug Detection School at Polk Community College with Trooper Bob Lanese in 1989. He was the first FHP K-9 to serve in Pinellas County after the CIP Program was expanded that same year.
Kilo  is credited with over 1,345 drug related arrests with asset seizures of over six million dollars. He is credited with numerous criminal apprehensions that resulted in convictions in both Federal and State court.  Kilo was involved in several multi-state criminal investigations which included the apprehension and subsequent conviction of a murder suspect in Houston Texas after an arrest of the same suspect with over 80 pounds of marijuana.
K-9 Kilo died in his sleep at home on June 17, 1998 after retiring from service eight months earlier. Kilo will always be missed by his many friends and family.