Criminal Interdiction Unit
K-9 Jake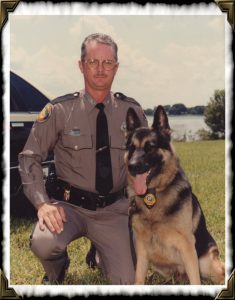 K-9 Jake was a German Shepherd and started his career in 1993, with Trooper Timothy O. Strickland in Troop-D Orlando and Trooper Roy D. Swatts as the team felony officer. In July 1996, Trooper Strickland and K-9 Jake were transferred to Troop-B Gainesville and Trooper Robert C. Roux was the assigned felony officer for the team.
Jake was responsible for the seizure of approximately $10,000,000 in narcotics, currency and vehicles.
Jake retired from the Florida Highway Patrol in October, 1999, and stayed with the Strickland family until he passed away in 2001. K-9 Jake was a faithful companion and loyal friend. He will always be missed and remembered by the Strickland family.