Criminal Interdiction Unit
K-9 Grim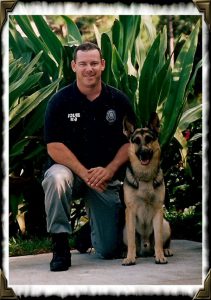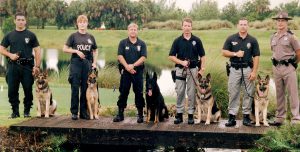 K-9 Grim was handled by Trooper Douglas S. Coley in 1996 and was assigned to Troops L and K in Fort Lauderdale/Miami during his career with the FHP.
Grim was credited with many accolades from federal and local agencies as well as FHP supervisors for the numerous drug and asset seizures, as well as his criminal apprehensions.
Grim, who died in 2007, typified the police dog, and as such, he lived by the words from the poem, "The Police Dog."
To my partner and friend: You will always live with and beside me. Job well done partner…job well done!
K-9 Narcotic Detection Academy pictured in the group photo: Officer Ron Mango w/Rox, Detective Joyce Flemming w/Gunner, Officer Blake Wever w/Jake, Trooper John Kane, Jr. w/Fonzo, Trooper Scott Coley w/Grim and Trainer/Evaluator Trooper Michael Van Leer.
July 13, 1998 – September 25, 1998