Criminal Interdiction Unit
K-9 Goblin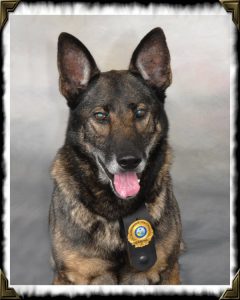 K-9 Goblin graduated from the Florida Highway Patrol K9 Patrol and Drug Detection Academy, instructed by Trooper Michael R. Van Leer, in Palm Beach County in 2000. He was handled by Trooper Benjamin Fargo who retired from the department in 2006. Goblin was reassigned and transferred to Trooper Dave Cimino in Troop G.

Goblin was responsible for multiple narcotic and currency seizures, as well as multiple suspect apprehensions. He was well respected by the many law enforcement agencies who called upon him regularly for assistance.
K9 Goblin, at age 13, made his last apprehension following a lengthy pursuit, allowing his handler to take a violent convicted felon into custody without being injured. Goblin retired shortly after that in late 2009, after he was diagnosed with a possible cancerous mass near his kidneys. He passed away in September of 2011, following a brief illness.
Pictured above: Goblin with Troopers Fargo, Boody and Kelly