Criminal Interdiction Unit
K-9 Frenzy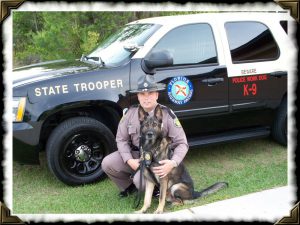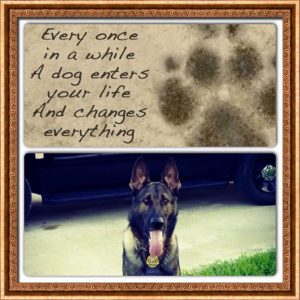 K9 "Frenzy" was imported from Budapest, Hungary in April 2006. Frenzy was partnered with Trooper Harold Schweinsberg of Troop D. Frenzy and Trooper Schweinsberg completed nearly 800 hours of training in patrol dog work and narcotics detection at the Florida Highway Patrol Canine Training Academy in West Palm Beach under the direction of Statewide K9 Evaluator/Trainer Trooper Michael Van Leer.
Over the past three years K9 "Frenzy" has alerted to over 500 pounds of marijuana, 10 kilograms of cocaine, 4 ounces of heroin, 25 grams of MDMA and over $300,000 in US currency. In addition, Frenzy is credited with apprehending three subjects who were actively fighting with CIP team members. Frenzy is also credited with tracking down or assisting with several non-physical apprehensions. On several occasions Frenzy has assisted local, county and federal agencies including DEA, ICE and the US Secret Service.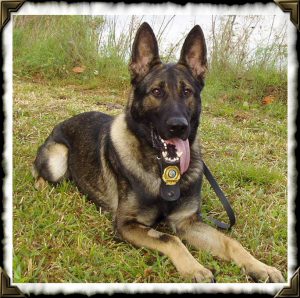 In June 2008, Frenzy was diagnosed with intussusception of the intestines and had to undergo emergency surgery to save his life. On his first day back to work, K9 "Frenzy" alerted to a vehicle containing nearly $70,000 in drug money. The following week, Frenzy alerted to a vehicle containing 3 kilograms of cocaine, a loaded handgun and nearly $9,000 in drug money.
In November 2008, Frenzy fell ill again and had to undergo another emergency surgery which resulted in the removal of his spleen. Frenzy was placed on a limited work schedule but continued to contribute to the Troop D Contraband Interdiction Team.
In May 2009, K9 "Frenzy" was retired due to his health and remains with his former handler, Sergeant Schweinsberg. He passed away Thursday, July 16, 2015.