Criminal Interdiction Unit
K-9 Enzo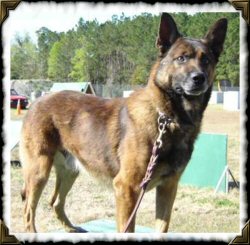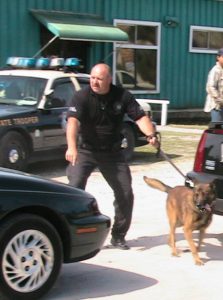 FHP K-9 Enzo began his career in 2004 with Trooper John Dance as his handler in Volusia County, Troop-D. K-9 Enzo was donated to the Florida Highway Patrol by Halifax Paving and Southern Coast K-9.
In 2006 Trooper Dance was promoted to Corporal and K-9 Enzo was transferred to Trooper Robert C. Roux in Lake City, Troop-B. Trooper Roux worked K-9 Enzo from 2006 – 2007 and Trooper Timothy O. Strickland was his handler from 2007 – 2008 when he retired in June 2008.
K-9 Enzo was responsible for the seizures of approximately $6,000,000 in narcotics, currency and vehicles.
K-9 Enzo passed away in his sleep October, 2011, at Trooper Robert Roux's home. K-9 Enzo will be missed by the Dance, Roux and Strickland families.
Pictured right:  Trooper Roux and Enzo conduct a Walk-Around during an Operation Hard Hat traffic stop.