Criminal Interdiction Unit
K-9 Ciro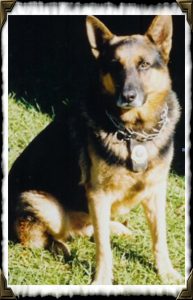 K-9 Ciro began his seven years of service with the Florida Highway Patrol in May, 1997, during which he was responsible for assisting his handler in the arrest of many felons who transported illegal drugs on the roadways of our state. K-9 Ciro was a loyal partner to his handler Trooper Jeffery Perkins in Troop C's Lakeland District. Trooper Perkins and K-9 Ciro worked with partners Trooper William Tindle, Jr. and Trooper Raymond Pastrana.
Throughout his successful career, K-9 Ciro was involved in hundreds of vehicle searches that resulted in the seizure of large amounts of methamphetamines and other illegal drugs. He also apprehended many felons in the line of duty, conducted prison searches, and even performed his duties for children during school demonstrations.
K-9 Ciro was retired from active duty in 2004 for health reasons. He died on December 22, 2005. K-9 Ciro will always be remembered for his loyalty to duty and will be in our hearts and missed dearly.