Criminal Interdiction Unit
K-9 Chivas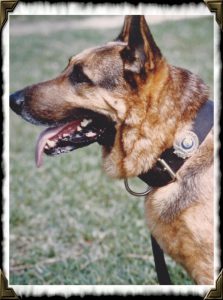 K-9 Chivas began his career with the Florida Highway Patrol as one of the first K-9s assigned to Troop E and his handler was Trooper Pat Murphy. When Trooper Murphy was promoted and reassigned, Trooper Chris Veverka went through training at the City of Miami K-9 Training Academy with Chivas. They graduated the class in May of 1986.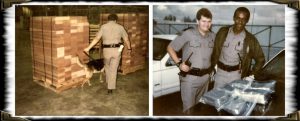 Chivas stayed with Veverka until his retirement, due to hip dysplasia, in 1991.
K-9 Chivas passed away in 1993.
Pictured above: K9 Chivas (left) worked with U. S. Customs in Port Everglades where two kilos of cocaine was found in each piece of wood. January 18, 1989, Chivas alerted to drugs in a 1986 Lincoln Continental (right), where six kilos of cocaine was found.