Criminal Interdiction Unit
K-9 Canto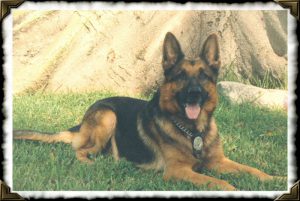 K9 Canto served as a member of the Contraband Interdiction Program from September, 1991, through September, 1999. Trooper Michael R. Van Leer handled K9 Canto and both were assigned to the Florida Turnpike, in Palm Beach County, Florida.
K9 Canto was presented awards by the United States Police K9 Association for National Drug Detector Dog of the year in 1992, 1993, 1994, 1995, 1996, 1997, and 1998 and when he retired in 1999. He was also awarded the Regional Detector Dog of the quarter by the United States Police Canine Association in 1991, 1992, 1993, 1994, 1995, 1996, 1997, 1998 and in 1999. The Drug Enforcement Administration, the Alcohol Tobacco and Firearms and the United States Customs Service also awarded commendations of Service to K9 Canto.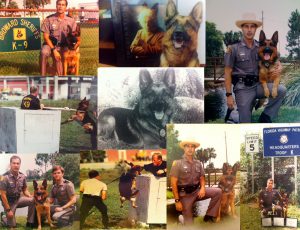 During K9 Canto's career he was responsible for seizing a total of $1,292,168 in US Currency, and $1,419,491 in illegal drugs and property.
K9 Canto passed away in 2001.
---
In the News:
Decorated FHP K-9 Euthanized
Published on Tuesday, July 31, 2001, in the Sun Sentinel
Ten years ago, the Florida Highway Patrol's K-9 Canto sniffed his way into the public's eye when he led his handler to two bags containing $293,000 of drug money on his very first traffic stop.
It was a sign of things to come.
In the past decade, Canto — known by many for his stainless steel teeth — wowed troopers as a key player in the seizure of nearly $4.5 million in illegal drugs, money and property.
This month, after two of years of retirement, the German shepherd was put to sleep after his health began to fail. He was 13.
"It probably was one of the hardest things I've ever had to do in being in law enforcement — recommending that he be put down," said Trooper Michael R. Van Leer, the dog's partner for nine years.
Two years ago, when Canto was forced to retire because he lost the hearing in his left ear, the FHP made an exception to its policy of not conducting retirement ceremonies for police dogs. Canto was special, officials said.
At Troop K headquarters west of West Palm Beach, Canto barked and whined his way through most of the retirement program as officials spoke his praises and read poems about dedication.
Canto earned the Top Narcotic Case of the Quarter award 13 times, the National Detector Dog Case of the Quarter twice, and the National Detector Dog Case of the Year in 1992-93 and 1994-95.
He obtained his signature choppers when Highway Patrol officials capped his teeth after he wore them down by biting the aluminum cages in the cruisers and chewing on rocks, Van Leer said.
Canto became ill July 15 and was taken to the veterinarian, who diagnosed heart failure and signs of cancer, Van Leer said.
Van Leer left the dog at the veterinarian, and when he returned to visit his friend two days later, Canto didn't react normally.
"When I walked back there and I looked in his eyes, he didn't get up," Van Leer said. "It just seems like he was saying to me, `I know it's going to happen. I know the decision has been made.'
"He seemed, in his eyes, that he was very tired. That it was time to go, and that kind of helped me in some respect make the decision I made."
Except for his recent illness, Canto was in fairly good health, Van Leer said. His hips were ailing a little, but he continued his normal routine at the house — walking the yard and playing with his ball, he said.
At the Van Leer's Royal Palm Beach home, Canto's memory is alive. The family has a display of photographs dating to his training days at the Broward County Sheriff's Office in 1989, newspaper clippings and more than a dozen awards and trophies.
Canto was replaced by K-9 Goose, who refuses to take over his turf, Van Leer said.
"Canto had the run of the back yard, and Goose stays in the front yard," Van Leer said. "Even to this day, Goose doesn't want to go in the back yard because he respects what has taken place. I think he senses the fact Canto is gone, and he still won't go out there."