Criminal Interdiction Unit
K-9 Bud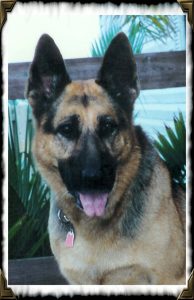 K9 Bud began his career with the Florida Highway Patrol in January, 1988. He was assigned to Trooper Joseph E. Mosca stationed in Troop E, Miami.
K9 Bud was assigned to various task force details including the Violent Street Crimes Task Force. His largest drug seizure was 325 kilos of cocaine and 1.8 million dollars in U.S. currency in separate seizures. At one point in his career, Bud was recognized for having the highest apprehension rate for a serving FHP K9.
Bud was retired from active service in July, 1999, and passed away from health complications on December 22, 1999.