Criminal Interdiction Unit
K-9 Billy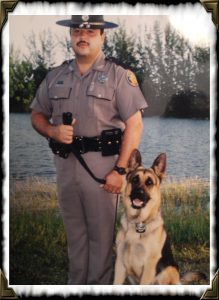 On September 19, 1995, K9 Billy began his career with the Florida Highway Patrol assigned to Trooper Orlando Saavedra in Troop E Miami. Working in conjunction with the South Florida Money Laundering Strike Force (SFMLSF), Billy was responsible for the seizure of $6,866,285 in US currency and a total of $19,160,300 in narcotics.
K9 Billy was also responsible for seizures made by other federal and local law enforcement agencies; his searches were a key part of investigations that resulted in the arrest of countless targets. Billy also performed a total of 13 tracks that resulted in the capture of five suspects.
He was by his handler's side during a multiple assailant shootout in 1997. K9 Billy was a dedicated partner who only wanted to be with his handler and work.
K9 Billy became ill after suffering bloat and was eventually retired from service in April 2000. He lived with his family until he passed away in 2005. All who came in contact with him loved K9 Billy. He was an asset to the Department and is missed by all.