Criminal Interdiction Unit
K-9 Beau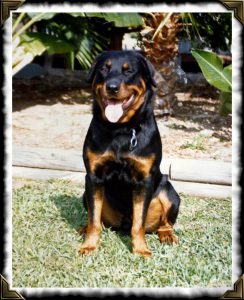 KILLED IN THE LINE OF DUTY
K-9 Beau was a 2-year-old Rottweiler assigned to Trooper Tom Maxwell in Dade County. Beau graduated from the Miami Police Department Training Academy. He won the Most Outstanding Canine Award in his class.
September 1987, Beau died of heat exhaustion after a search for home invasion robbers. Beau was an exceptional dog and is missed by his partner and all who knew him.
---
In the News:
Trooper`s K-9 Partner Gets Tearful Farewell
Published on Saturday, September 5, 1987, in the Miami Herald & Sun Sentinel
K-9 Trooper Tom Maxwell buried his four-legged partner on Friday, and burly police officers cried.
Beau, eulogized at his funeral as a Florida Highway Patrol hero in the fight against crime, died of heat exhaustion on Tuesday after a midday search for two home invasion robbers.
"It`s like losing my best friend," Maxwell said, tears running from behind his dark sunglasses.
But some of the two dozen other K-9 officers at the funeral said that having a dog die was in some ways worse than losing a human best friend. Most officers don`t live and work with their human best friends.
Maxwell reminisced about Beau, a 2-year-old rottweiler, for officers from across Dade County who came to pay their respects at Pet Heaven Memorial Park near Sweetwater.
Beau kept Maxwell company during those long hours on patrol, the trooper said. He protected Maxwell during those risky moments when he pulled over cars in rural south Dade. Few drug dealers could hide narcotics from Beau`s nose.
The officers, who wore black tape across their badges, stood in formation as an honor guard of Miami and Highway Patrol K-9 police carried Beau`s beige fiberglass coffin to its grave.
Clutching his wife`s hand for support, Maxwell looked out from beneath his trooper`s straw-colored Stetson at the coffin and wiped tears from his cheeks, as Maj. Gene Gracey told of Beau`s intelligence and physical abilities.
Canine Beau, Highway Patrol badge number 2076, was one of the most exceptional dogs ever to graduate from the Miami Police Department Training Academy, Gracey said. He won the most outstanding canine award for his 16-week class and won honors in a drug interception training class, too.
On Tuesday, after the search for the robbers, Beau appeared to be sick. Maxwell drove him to an animal hospital, where his temperature was 12 degrees above normal.
A veterinarian packed Beau in ice and treated him with medicine, but he went into convulsions and died.
"A dog is so devoted to doing the job that they will ignore their own health and work until they drop," said Felix Eades, a former K-9 officer who donated Beau to the Highway Patrol.
Maxwell was heartbroken.
"They were a perfect bond," is how Gracey described Maxwell and Beau.
There was hardly a dry eye at the pet cemetery when Maxwell said goodbye to his best friend as another trooper played Taps and the K-9 officers saluted as their dogs sat at their sides.
"Sometimes you forget they`re just … dogs," said a teary Eades, the husky ex-officer turning his face to a wall as he cried.