Criminal Interdiction Unit
K-9 Bacar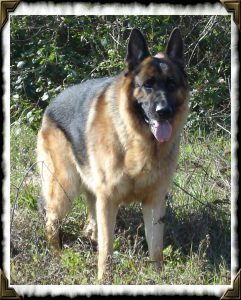 K9 Bacar worked from March 2003 until December of 2007 when he retired to live with the Martin family. The Florida Highway Patrol would like to thank Trooper Martin and his family. A special thanks to Bacar for his dedication to the citizens of the state of Florida and the Criminal Interdiction Unit.
K-9 Bacar retired at the early age of seven due to an illness. While he was in service he was responsible for the seizure of over $80,000 in cash, 600 pounds of Marijuana, 70 grams of Heroin, 10 Kilos of Cocaine, 80 pills of MDMA and 10 grams of Methamphetamine.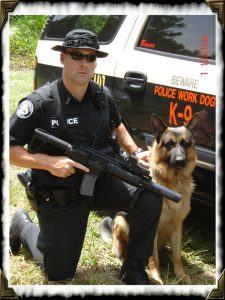 Bacar was also credited with 10 felony suspect non-physical apprehensions as well as the tracking and locating of two missing persons.
Bacar was known to children in the local area for his K9 demonstrations and personality and was also known to several police agencies in Central Florida for his assistance.
It is with the deepest sadness that the CIP Program lost one of their retired partners. Bacar who was handled by Brian Martin and was assigned to Troop K in Orlando and passed away from cancer.