Criminal Interdiction Unit
K-9 Abbey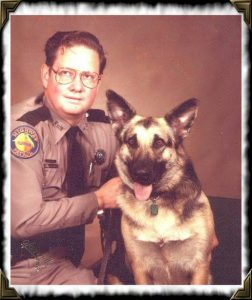 KILLED IN THE LINE OF DUTY
K9 Abbey laid down her life for her handler and expected nothing in return. K9 Abbey protected her partner with her life, and was the first in to find drugs and weapons, and was the last to leave. Even though K9 Abbey did not take a bullet to end her life, she and her partner endured years of pain and suffering from a silent killer chemical at the hands of a drug dealer.
K9 Abby is hereby recognized for her acts of courage and commitment to basic law enforcement functions of protection of life or property, enforcement of laws, preservation of the public peace, prevention of criminal acts or apprehension of criminals.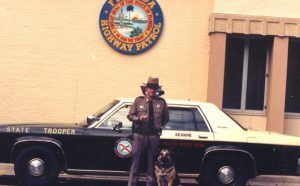 K9 Abbey, donated by the Hillsborough County Sheriff's Office, was one of the original four canines deployed by the Florida Highway Patrol in 1984. After completion of training with her assigned handler, Trooper Richard "Spanky" Chapman, they reported for duty on the Florida Turnpike.
During her career, K9 Abbey was responsible for over 797 felony arrests, confiscating over $47 million dollars in illegal narcotics and over $725,000 in drug related currency. K9 Abby's outstanding and diligent work efforts were noted by criminal elements. It was well known that among the criminal element, rewards had been offered for the elimination of K9 Abbey and Trooper Chapman. On November 18, 1988, while conducting a canine sniff of some narcotics, K9 Abbey was overcome and fell to the ground. The unknown chemicals also momentarily overcame Trooper Chapman. Soon thereafter, Trooper Chapman was diagnosed with a life threatening illness that was subsequently determined to be work related and a direct result of this exposure. K9 Abbey was retired in June 1991 and as a result of this criminal act of aggression, died in July 1992 of a rare liver cancer, directly related to the 1988 incident.