Chief's Challenge Award for Top Troop
2016 Top Troop
The Florida Law Enforcement Challenge recognizes the best overall traffic safety program in Florida. The area of concentration is enforcement and education with special emphasis on occupant protection, impaired driving and speeding. A panel of independent members of law enforcement and public safety judge the applicants overall performance. The main focus is policy, training, public information, enforcement and effectiveness.
This year's award event was Friday, July 8 at the Gaylord Palms Convention Center in Kissimmee. The awards included the Florida Traffic Safety Officer of the Year, FDOT Pedestrian/Bicycle Agency of the Year, as well as the winners of the Florida Click It or Ticket Challenge, Florida DUI Challenge, Florida Motor Unit Challenge and the Florida Law Enforcement Challenge.
This year, Troop D won FHP Top Troop for 2015. This means that out of all the FHP troops, Troop D demonstrated the best overall traffic safety efforts in Florida for 2015. Troop D members are (front row, left to right) Trooper Deborah Hawkins, Lt. Chris Sorvillo and Sgt. Jim Montes and back row (left to right) are Captain Eddie Herrell and Lt. Mark Castleberry.
This year, Troop L Motor Unit placed 20th out of 128 motor units in the Motor Unit Challenge. The Florida Motor Unit Challenge is a competition among Motorcycle Enforcement Units from across the state. It recognizes and rewards the best overall Motor Units in Florida. The areas of concentration include efforts to enforce traffic safety laws and educate the public about occupant protection, impaired driving, speeding and other areas of traffic safety. Each law enforcement agency submits an application that documents their enforcement efforts and effectiveness in the aforementioned areas. The exemplary Motor Unit programs are those that combine enforcement, public information and education to reduce crashes and injuries within their respective jurisdictions.
Troop L Motor Unit members are (left to right) Trooper Chantale Jones, Trooper Robert Lopez, Trooper Deano Kates-paulus, Trooper Kenneth Walker, Trooper Stephan Coe and Sergeant Milton Busby.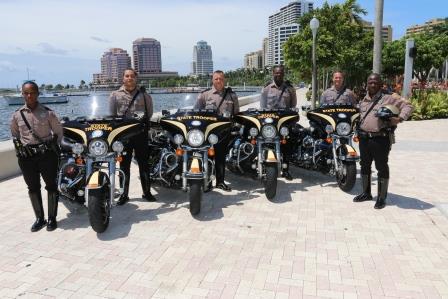 Proven by research, it is well known that an increase in traffic enforcement in conjunction with an educational effort within a community results in a decrease in motor vehicle crashes, injuries and fatalities. The goal of the LEL Program is to reduce traffic related fatalities and injuries by working with law enforcement agencies across the state to boost safety belt use, reduce drunk driving and encourage traffic safety initiatives.