Chief's Challenge Award for Top Troop
2015 Top Troop
Troop C Wins Top Troop LE Challenge 2015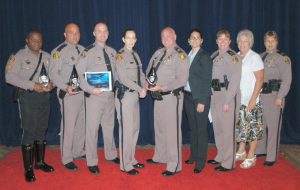 On Friday, July 17, 2015, FHP attended the annual Chief's Challenge Award Presentation in Orlando. As a result of Troop C's hard work and can do attitude, Troop C achieved the following results:
1st Place in the Troop Challenge
1st Place in the Click it or Ticket Challenge.
1st Place in the DUI Challenge
This is the first time a single troop has placed first in all 3 categories.
Pictured below, troop representatives from all troops that placed in the three categories: