Chief's Challenge Award for Top Troop
2013 Top Troop
Troop C Wins Top Troop LE Challenge 2013
On Friday, July 19, 2013, FHP attended the annual Chief's Challenge Award Presentation in Orlando. As a result of Troop C's hard work and can do attitude, Troop C achieved the following results:
1st Place in the Troop Challenge – We are the Top Troop in the state and achievement that Troop C has not earned in over 10 years.
3rd Place in the Click it or Ticket Challenge.
20th Place in the Motor Challenge. This is the first time Troop C has placed in this category.
These awards are a result of team work, dedication, and plain old fashion hard work. It demonstrates that Troop C has a lot of members with a sense of pride in who we are and what we stand for as well as a strong desire to do what's right and be the best.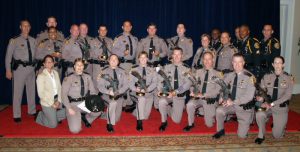 "Because none of this would have happen without all of you putting in the effort. I also want to thank all of the Troops supporting cast who do so many numerous things behind the scenes that make it easier for us to perform our duties and be successful," said Major Thomas. "We stay true to our mission and protect the motoring public of the State through Safety, Education, and my favorite, Enforcement. Once again, thank you for all that you do!"