Chief's Challenge Award for Top Troop
2012 Top Troop
Troop E Wins Top Troop Award
The Florida Highway Patrol's Troop E was recently recognized by the Florida Department of Transportation and National Highway Traffic Safety Administration as the top troop in the Florida Law Enforcement Challenge at the annual Traffic Safety Awards Ceremony held at the Rosen Shingle Creek in Orlando on July 13th.
The Florida Law Enforcement Challenge recognizes the best overall traffic safety program in Florida. The area of concentration is enforcement and education with special emphasis on occupant protection, impaired driving and speeding. A panel of independent members of law enforcement and public safety judge the applicants overall performance. The main focus is policy, training, public information, enforcement and effectiveness.
This award is a great accomplishment for the men and women serving in Troop E. Congratulations to Troop E for creating A Safer Florida.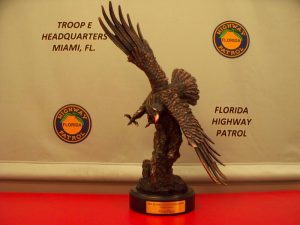 Pictured above: Sandy Richardson (NHTSA Region 4 Program Manager), Lt. Kevin Conner, Capt. Marshall Davies, Col. David Brierton, Sgt. Thomas Pikul and Ken Ellis (FDOT Safety Office Administrator)