Chief's Challenge Award for Top Troop
2011 Top Troop
Troop K Garners Top Troop at Annual Competition
Troop K patrols the 460 miles of the Florida Turnpike Enterprise Highway system that goes through 16 of Florida's 67 counties and is used by more than 1.8 million motorists daily. The Department of Transportation recognized members of Troop K as the top troop in the Florida Highway Patrol. The troops were judged in several categories of traffic safety, such as enforcement, public information and overall effectiveness.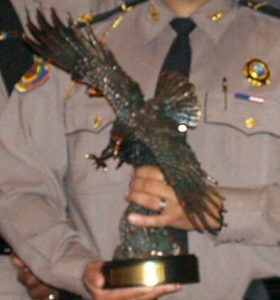 Through the efficient use of personnel and resources along with a very strong partnership with the Florida Turnpike Enterprise, Troop K's safety and enforcement focused on unlawful speed, aggressive drivers, impaired drivers, contraband interdiction, safety belt use, child restraint and the Move Over law.
Troop K's efforts, along with the unique partnership shared with the Turnpike Enterprise, led the troop to be innovators of roadway clearance policies and motorist education campaigns. Troop K effectively helped reduce the overall crash rate and the number of fatal crashes, as well as provided one of the safest driving environments for our residents and visitors.
Pictured above: Troop K Commander, Maj. Joseph Saucedo, with FHP Director, Col. David Brierton and Troop K supervisors, holds the award for top troop.