Chief's Challenge Award for Top Troop
2010 Top Troop
Troop D is Top Troop for Chief's Challenge and Click It or Ticket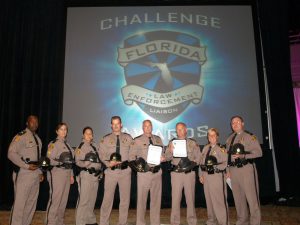 Troop D is the busiest troop in the state, but in 2009, troopers were able to help reduce area traffic fatalities by 13%. Troopers in Troop D investigated over 50,000 crashes last year and, through aggressive, proactive patrol still issued over 45,000 speeding and over 14,000 seat belt citations. They also arrested almost 1,700 drivers for DUI.
As a result of their outstanding work, Troop D was recently selected FHP's "Top Troop" in this year's Troop Challenge – a program designed to evaluate performance in various categories, including public information, enforcement and effectiveness.
Troop D troopers received a tremendous amount of support from the Florida Highway Patrol Auxiliary, as the FHPA participated in all of the DUI checkpoints and helped with dozens of safety events. All the sworn and non-sworn members in Troop D worked hard in 2009 to promote the agency's goal of making Florida's roadways safer for our residents and visitors.