Chief's Challenge Award for Top Troop
2009 Top Troop
Troop A Named Top Troop in 2009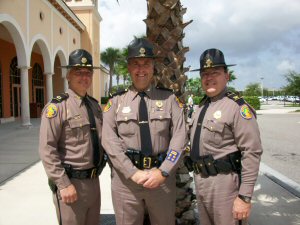 Florida Highway Patrol's Troop A was recognized by the Florida Department of Transportation's Law Enforcement Challenge as the "Top Troop" in the state in the Troop Challenge. Troop A was also selected as best in the state for child occupancy protection. The ceremony was held July 31st in Orlando to recognize those agencies's who participated in the challenge.
The Florida Law Enforcement Challenge competition recognizes the best overall traffic safety programs in Florida. The area of concentration is enforcement and education with special emphisis on occupant protection, impaired driving and speeding. A panel of judges of independent members of law enforcement and public safety judge the applicants overall performance. The main focus is policy, training, public information, enforcement and effectiveness.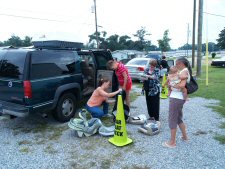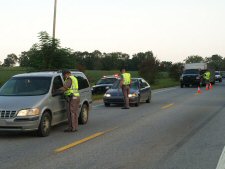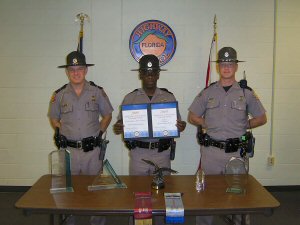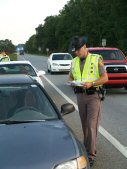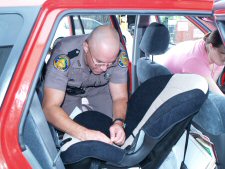 Troop A's efforts have been recognized over the recent years in the Law Enforcement Challenge. Since 2002 Troop A has been selected as the States "Top Troop" three times and placed first and second place respectively in the Championship Class.
These awards are a great accomplishment for the men and women of Troop A. They recognize the hard work and dedication of the Troopers and support personnel who help support daily operations, and the child occupancy protection program. Together they are working to create a Safer Florida.
Pictured top left: Chief Grady Carrick, Captain Terry Blackmon, Colonel John Czernis at the law enforcement challenge awards in Orlando.
Center photos – pictured left: Senior Clerk Tristy Corey adjusts a car seat.  center: left to right Lt. Dave Brown, Sgt. Lonnie Baker and Trooper Phillip Spaziante with the current award and previous awards.  right: Trooper Ray Agosto installs a car seat. Click photos to enlarge.