Chief's Challenge Award for Top Troop
2008 Top Troop
Troop G Named Top Troop Again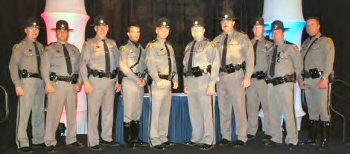 The Florida Highway Patrol's Troop G was recently recognized by the Florida Department of Transportation and National Highway Traffic Safety Administration as the top troop in the Florida Law Enforcement Challenge at the annual Traffic Safety Awards Ceremony in Orlando. In addition, Troop G's motor squad was selected as the best in the State in a Florida Motor Unit Challenge.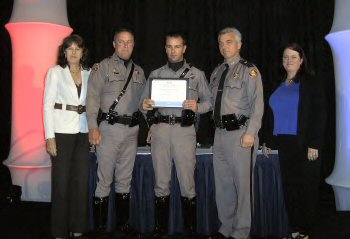 Research shows that an increase in traffic enforcement results in a decrease in motor vehicle crashes, injuries, and fatalities. In fact, no other single program or strategy works as well as law enforcement in making travel on Florida's roads safer. That's why every year the Florida Department of Transportation (FDOT) holds the Challenge. The competition is designed to recognize and reward the best overall traffic safety programs in Florida.
Each award application submitted is judged by an independent panel of national traffic safety experts on five criteria: policy, training, public information, enforcement, and effectiveness. The emphasis of judging is placed on speed, DUI efforts, and occupant restraint programs. This is the fifth time since the award program began in 2000 that Troop G has been chosen as the top troop in the state.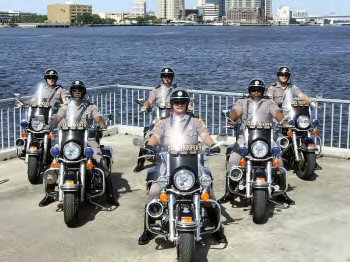 This is the first year of the Florida Motor Unit Challenge, which was developed by FDOT to recognize the significant accomplishments of the many motor squads around the state. These specialized enforcement units are capable of diverse assignments and have proven beneficial in their ability to easily access traffic crash scenes and enforce traffic laws on congested roadways. The motor units were judged in three categories; Policy & Guidelines, Enforcement Activity, and Effectiveness of Efforts. Troop G's motor squad was ranked number one by the panel of judges.
Being named top troop demonstrates that FHP's Troop G consistently performs beyond the minimum and actively seeks to lead the Florida Highway Patrol in a myriad of ways. "The safety of our community is our top priority," said Major Grady Carrick, Troop Commander. "We are thrilled to be recognized for the hard work and dedication of our officers toward achieving this goal. These awards are a significant accomplishment for the men and women who patrol the nine-county Northeast Florida Troop, which is headquartered in Jacksonville," added Carrick.
Pictured top left: Representatives from Troop G receive top troop award (L to R): Lt. Bill Leeper, Trooper Tom Colalillo, Captain Rick Kelley, Trooper Daryl Pechin, Major Grady Carrick, Colonel John Czernis, Captain Gene Sapulding, Trooper Chester Everett, Trooper Greg Healy, Trooper Larry Smith. Pictured center right: Troop G Motor Squad Representatives pick up award (L-R) Trooper Larry Smith, Trooper Daryl Pechin, Major Grady Carrick. Pictured bottom left: Jacksonville Motor Squad