Chief's Challenge Award for Top Troop
2002 Top Troop
Troop "G" Repeats as TOP TROOP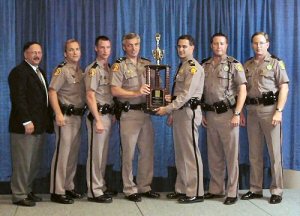 For the second consecutive year, Troop G has been selected as the Florida Highway Patrol's TOP TROOP, winning the prestigious Troop Challenge.
The "Troop Challenge" is a program begun last year and patterned after the International Association of Chiefs of Police (IACP) Chiefs Challenge. The program is sponsored by Buckle Up Florida and the National Highway Traffic Safety Administration (NHTSA). Each of the FHP's ten geographic troops are judged by an independent panel of national traffic safety experts on five criteria: policy, training, public information, enforcement, and effectiveness.
According to the panel, Troop G was once again the clear choice for the award, compiling an impressive submission package. The submission represented excellence in every facet judged by the panel. According to FHP Director, Colonel Christopher Knight, "The innovation of the troop is evident in the effectiveness achieved by Troop G".
According to Major Grady Carrick, Commander of Troop G, the award is representative of the dedication and hard work of the more than 180 men and women who make up the Jacksonville-based troop covering 7 northeast Florida counties. "From the sworn and civilian personnel in the troop, the excellence in the operation is a total team effort".