Photo/Story Gallery 2005
109th Recruit Class Graduates
"One Heart, One Mind,
We're the Class of 109"
On April 14, 2005, the Florida Highway Patrol's 109th Basic and Certified Officers recruit class graduated in a ceremony at the Leon County Civic Center in Tallahassee. Department of Highway Safety and Motor Vehicles Executive Director, Fred Dickinson, introduced Florida Department of Juvenile Justice Secretary, Anthony Schembri, as the Commencement Speaker for the graduation exercises. Of the 36 graduates, eight were selected to receive special recognition, receiving awards as follows:
Executive Director's Award: Fred D. Hall
FHP Director's Award: Carlton B. Yarborough
Class President's Award: Keenyn Hutto
Marksmanship Award: Jeremy Fields
Defensive Tactics Award: Carlton B. Yarborough
Physical Fitness Award (Best Overall): Shaun Reid
Physical Fitness Award (Most Improved): Lenita King
Public Speaking Award: Brendell Richardson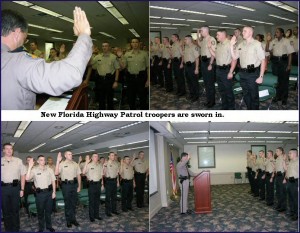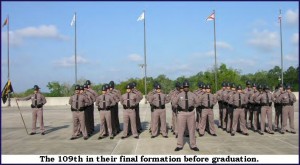 The 109th Basic Recruit Class began their training September 20, 2004, while the members of the Certified Officers Recruit Class didn't begin until December 6, 2004. After completing their respective 30 week and 9 week stints at the Academy in training, the Basic and Certified Officer Recruits were eager to receive their diplomas and badges and take their oath of office. The graduates must still complete 10 weeks of field training in their newly assigned districts before they are released to solo patrol.