Photo/Story Gallery 2004
The 107th Basic Recruit Class Reports for Training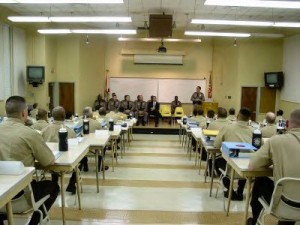 On January 26, 2004, in the middle of a thunderstorm, fifty-two men and women reported to the Florida Highway Patrol Training Academy to begin Basic Recruit Training as Class 107. Colonel Chris Knight introduced the trainees to the senior management of FLHSMV and FHP and encouraged them to "stick it out and never give up on your dreams."
Pictured: Colonel Chris Knight welcomes the 107th Basic Recruit Class.
The first week of training is always extremely intense. The recruits must face indoctrination, tough physical training and must get used to their new surroundings and members of the training staff, all of which can be quite stressful! Colonel Knight reminded them to look forward, down the road and to focus on the big picture.
The recruits will be required to form up every morning, noon and evening, before meals and during the lowering of the colors (retreat) and at any other time a "discussion" is necessary concerning recruit activities. Class counselors and Academy staff members use these formations to pass on information and discuss various rules the recruits must adhere to during their Academy stay. Discipline and military bearing are important qualities stressed during the first few weeks of the Academy.