Photo/Story Gallery 2003
105th Recruit Class Graduates
On December 18, 2003, the Florida Highway Patrol Academy graduated its 105th class in a ceremony held at the Tallahassee-Leon County Civic Center. Fred Dickinson, Department of Highway Safety and Motor Vehicles Executive Director, introduced Lt. Governor Toni Jennings as the Commencement Speaker for the occasion.
Pictured left, 105th Class Graduates with Lt. Governor Toni Jennings
There were 34 graduates, including thirty-one from the 105th BRC (Basic Recruit Class) and three from the Certified Class. These 34 new troopers are a welcome addition, especially since FHP continues to be short-handed because of the retirement of a number of employees earlier this year.
"Towards Perfection We Shall Strive"
"We're Recruit Class 105"
Before taking their oaths and receiving their badges, the 105th BRC completed 27 weeks of intensive training, including over 1200 hours of classroom study at the FHP Academy located in Tallahassee.
The Certified Recruits completed 8 weeks of training. The troopers now have to complete ten weeks of field training before being released for solo patrol. Florida's highways will be a little safer with these much needed troopers on the job.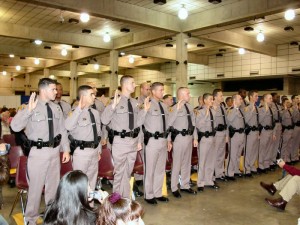 Class awards were presented by Executive Director Dickinson and FHP Director Knight:
Executive Director's Award:  Josue Mora
Class President's Award:  Thomas Pikul
Public Speaking Award:  Thomas Pikul
Marksmanship Award:  Brian Lamb
Marksmanship Award:  Daniel Ortolani
Defensive Tactics Award:  Roxie Cummings
Physical Fitness Award(Most Improved):  Tomas Corey
Physical Fitness Award(Best Over-all):  John Carvalho
Director's Award:  Christopher Aguila