Important FLHSMV COVID-19 Updates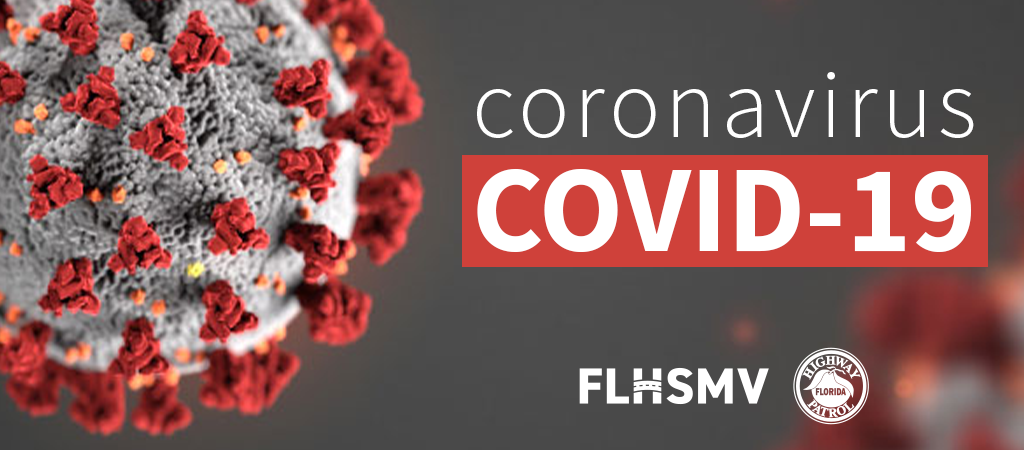 In response to COVID-19, the Florida Department of Highway Safety and Motor Vehicles (FLHSMV) is actively monitoring information from Centers for Disease Control and is working closely with the Florida Department of Health and other state partners. We are committed to keeping our customers, team members, and partners informed, equipped, and safe.
FLHSMV Offices Reopening for Limited In-Office Services

Beginning June 3, 2020, the Florida Department of Highway Safety and Motor Vehicles (FLHSMV) will begin reopening offices to serve the public by appointment only. For a limited time, driver license and motor vehicle services will be limited to only those customers who are unable to conduct their transactions through GoRenew.com. You can use our new online tool to check whether you can renew or replace your driver license online or need to visit an office. This tool takes into account items such as citizenship status, REAL ID compliance, sanctions, and more. The department's strategic approach to reopening its offices prioritizes the health and safety of Floridians and FLHSMV members, while continuing to increase services for customers.

To ensure the safety of customers and staff, FLHSMV offices will provide in-office services by appointment only, until further notice. Appointments can be made online here. As a reminder, customers can also take the driver license knowledge and skills exams through authorized Third Party Administrators.

To allow FLHSMV staff to operate safely and protect the health and wellbeing of customers, all FLHSMV offices will adhere to strict social distancing policies that every customer must follow in order to be served. Customers with appointments should note the following:

Only customers with appointments will be allowed in the office.
Customers will be asked a series of screening questions and have their temperature taken before they enter the office, per CDC guidelines. Customers with a fever will not be permitted to enter.
Members of the public must use a facial covering, when obtaining essential services, which will be removed only for circumstances where capturing a photo of the customer is necessary.

In addition, FLHSMV is encouraging Floridians who are able to complete their driver license or motor vehicle transactions online to do so, rather than in person at a driver license office. Floridians can use GoRenew.com to driver license transactions, motor vehicle registration and more. For more information on services impacted in your county by COVID-19, please visit our office closures page.

Federal Motor Carrier Safety Administration (FMCSA) Waiver in Response to COVID-19

The Federal Motor Carrier Safety Administration (FMCSA) issued a nationwide Waiver in response to the COVID-19 National Emergency for States, CDL Holders, CLP Holders, and Interstate Drivers Operating Commercial Motor Vehicles that will be in effect from October 1, 2020, through December 31, 2020. Important Enforcement Points contained in the FMCSA Waiver:

Commercial Driver Licenses (CDL) or Commercial Learner's Permits (CLP) that were valid on February 29, 2020, but expired on or after March 1, 2020, have validity extended until December 31, 2020.
Drivers whose medical certification or variance expired on or after March 1 and before June 1, 2020, have until October 31, 2020 to update their medical certificate; and
Drivers whose medical certification or variance expired on or after June 1, 2020, have until December 31, 2020 to update their medical certificate.
The FMCSA waiver applies to CDL's and CLP's issued by all United States jurisdictions.
FMCSA also continues to recognize the validity of commercial driver's licenses issued by Canadian Provinces and Territories and Licencias Federales de Conductor issued by the United Mexican States, when such jurisdictions issue a similar notice or declaration extending the validity date of the medical examiner's certificate and/or validity of the corresponding commercial driver's license due to interruption to government service resulting from COVID-19. The waiver does not apply to a CDL or CLP holder if the driver's privileges have been suspended or withdrawn for traffic offenses.

Checkpoints for Motorists Entering Florida on I-95

At the direction of Governor Ron DeSantis, the Florida Highway Patrol is assisting the Florida Department of Transportation and the Florida Department of Health (DOH) with checkpoint for motorists entering Florida on I-95. To assist the public, the Florida Department of Health has a COVID-19 Call Center to address questions regarding vehicle checkpoints.

Please call 1-866-779-6121 or email your questions to COVID-19@flhealth.gov

Federal REAL-ID Enforcement Deadline Extended

As directed by President Donald Trump, the Department of Homeland Security has extended the REAL ID enforcement deadline to October 1, 2021. While Florida continues to be a nationwide leader in REAL ID compliance, this extension will allow us to continue to protect the health of our employees and security of Floridians.