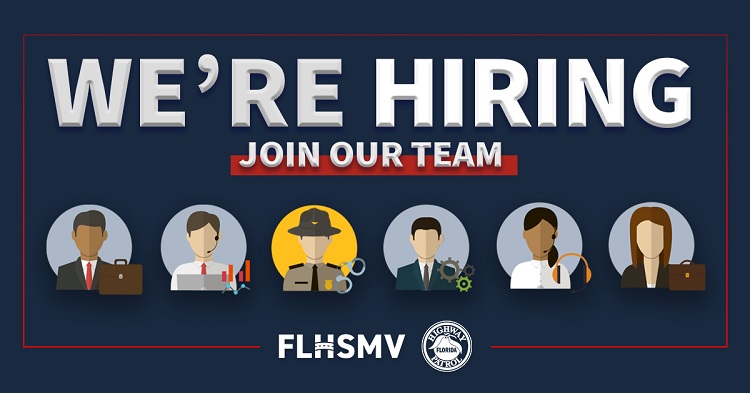 FLHSMV offers an array of employment opportunities, including administrative and clerical support, customer service, information technology, and sworn law enforcement. Read below to learn more about the Agency's different divisions and a few of the featured jobs we have to offer.
Office of the Executive Director
The Office of the Executive Director offers support in monitoring, supervising, coordinating, administering and directing all activities of the Department to ensure that FLHSMV's mission and objectives are being followed, pursuant to Florida Statutes and Florida Administrative Code.
Featured Jobs:
HSMV Field Hearing Officer
If you are looking to make a powerful and practical difference in the lives of millions of Florida drivers, consider a career as an HSMV Field Hearing Officer. Hearing Officers conduct administrative hearings, evaluate testimonies and evidence, and draft and issue final orders for reinstatement of driver licenses in accordance with Florida Statutes.
These are exciting jobs that provide you with extensive training and support to enable you to make independent decisions that affect the lives of our motoring public, and are recognized nationally and can qualify for certification through the National Association of Hearing Officials. Opportunities are available in 16 office locations statewide.
We are seeking candidates interested in:
• Providing customer service to a diverse group of individuals, including attorneys, legislators and state officials
• Demonstrating advanced verbal and written communication skills
• Upholding high standards of professionalism and ethics
• Gaining knowledge of Florida Statutes and administrative rules, regulations and procedures
• Performing independent research to make informed decisions and exercise judgement
Division of Florida Highway Patrol (FHP)
The Florida Highway Patrol, Florida's only statewide uniformed police force, holds both state and national law enforcement accreditation and is among the finest state law enforcement agencies in the nation. FHP promotes a safe driving environment through proactive law enforcement, public education and safety awareness.
Featured Jobs:
FHP Trooper (Sworn Law Enforcement)
State Troopers are motivated, hard-working law enforcement officers specializing in traffic safety. Our women and men patrol Florida using state–of-the-art training, equipment, technology and resources to actively enforce the State's criminal, traffic, motor vehicle and driver's license laws.
We are seeking individuals who demonstrate:
• Willingness to serve anywhere in the State
• Passion for public service and law enforcement
• Strong sense of integrity and ethics
• Leadership and interpersonal skills
• Prior military experience a plus!
Visit FHP's BeATrooper website to learn more and apply today.
Dispatcher (Non-Sworn)
Being a Regional Duty Officer is a job that matters. Our Duty Officers play a vital role in ensuring public safety by coordinating the prompt response of emergency services and providing emergency dispatch information to Law Enforcement Officers and callers statewide. Duty Officers also assist in investigating criminal histories and warrants, and documenting critical information used in court proceedings for the prosecution of criminals.
If you are interested in making a positive contribution to your community and have the ability to learn a new skill set, we can help prepare you to handle a broad range of incidences, from the routine disabled motorist call to the most critical incidents.
We are seeking candidates interested in:
• Public Safety and Service
• Applying advanced verbal communication skills
• Operating a multi-line telephone and Computer-Aided Dispatch system
• Working in an environment where every day brings new situations and experiences
• Rotating days off and permanent shifts
Visit FHP's Regional Duty Officer website to learn more and apply today.
Division of Motorist Services
The Division of Motorist Services promotes safety on the highways by licensing qualified drivers, controlling and improving problem drivers, maintaining records for driver evaluation and consumer protection of property rights by ensuring motor vehicles, vessels and mobile homes are properly titled and registered.
Featured Jobs:
Customer Service Representative
Senior Consumer Service Analysts are customer service representatives who assist callers with driver licenses, tag and title issues, and specialize in keeping our roads safe by educating drivers on insurance laws, clearing suspensions to help citizens drive legally, and supporting Homeland Security efforts by explaining compliance requirements needed to obtain driver licenses and identification cards.
Our Customer Service Center is a fast-paced call center that answers more than 4,000 calls per day, 5 days a week and offers comprehensive classroom and hands-on training to its employees. Employment opportunities are available in both our Tallahassee and Kissimmee call center locations.
We are seeking candidates interested in:
• Providing excellent customer service via telephone
• Working in a structured, high energy and fast-paced environment
• Utilizing computer and problem solving skills to research and resolve customer inquiries
• Learning Florida laws and statutes as they apply to driver licenses and motor vehicles
• Multi-lingual abilities a plus!
Driver Licenses Examiner
Driver Licenses Examiners impact the lives of nearly every resident in our great state by providing front-line service to help ensure that all Florida drivers are safe drivers. Our Examiners provide professional care for customers needing driver licenses, identification cards and much more. We have multiple offices and opportunities in Volusia, Broward and Miami-Dade County. If you are a proactive person with strong customer service focus looking to make an impact, consider a career as a Driver Licenses Examiner.
We are seeking candidates interested in:
• Providing face-to-face customer service
• Demonstrating cash-handling and computer skills
• Conducting written examinations and road tests
• Verifying identification and documentation required for licensing
• Working in a fast-paced and exciting business environment
• Multi-lingual abilities a plus!
Information Systems Administration (ISA)
The Division of Information Systems Administration provides information technology resources to help the Department accomplish its mission and goals. ISA maintains the Department's central computing facility and provides acquisition of equipment, software development and services, installation and maintenance, network administration, desktop support, and more. ISA plays a critical part in supporting our Department's systems, which store vital information for Florida citizens and law enforcement.
While our team is focused on delivering new innovative IT solutions, we equally concentrate on ensuring the Department has reliable, secure, and fiscally responsible IT infrastructure.
Featured Jobs:
Developer
Our Developers conduct work involving the design, development, modification, testing, installation, implementation, documentation and support of new and internal applications
Network Engineer
Our Network team conducts work involving design, development, modification, testing, installation, implementation, documentation and support of new or existing applications software with cross divisional scope and work to integrate multiple technologies and coordinate with the network, security and data management areas.
Technical Assistance
Our Technical Assistance team assists with systems administration and support within our Technical Assistance Center (TAC), which provides front line support for the entire Department's IT needs to include, proper intake of all support requests, correct classification of support requests, timely troubleshooting and diagnosis of support requests and accurate escalation.
We are seeking candidates interested in:
• Systems analysis & design
• Programming of internal software programs
• System network installation and implementation
• Working in teams to strategize program implementation plans