October 15–21 is National Teen Driver Safety Week
~ FLHSMV promotes occupant protection for teens with We Arrive Alive campaign ~
TALLAHASSEE, Fla. –The Florida Department of Highway Safety and Motor Vehicles (FLHSMV) joins the National Highway Traffic Safety Administration (NHTSA) in recognizing National Teen Driver Safety Week from October 15 to 21 to remind teens, and those in the car with them, to buckle up every time to Arrive Alive.
FLHSMV's 2017 We Arrive Alive campaign for Teen Driver Safety Week gives teens the tools and language to take ownership of their driving habits, cementing safe behaviors with affirmative statements about why buckling up is so important to ensuring all teens Arrive Alive.
"It is important for teen drivers to take ownership for their safety and the safety of their passengers," said FLHSMV Executive Director Terry L. Rhodes. "Without a seat belt, chances of dying in a crash almost double. Make sure everyone in the car knows: the vehicle doesn't start until everyone is buckled up."
On October 17, FLHSMV's division of the Florida Highway Patrol and Office of Driver Safety will be highlighting Teen Arrive Alive Day with events throughout the state to educate parents and teens on safe driving behaviors to ultimately prevent deaths from teen crashes. Florida teens make up approximately five percent of Florida's licensed drivers; however, in 2016, teen crashes made up 11 percent of all crashes.
"FHP wants everyone to Arrive Alive including our teenage drivers," said Colonel Gene Spaulding, Director of the Florida Highway Patrol. "Teens should limit the number of passengers in their vehicle to help keep their mind on driving and to keep the level of distractions down."
Parents play an important role in teaching teen drivers smart steps to stay safe on the road by working with these younger drivers to practice safe driving and making sure they always buckle up. Modeling good safety habits at the beginning helps ensure teens buckle up even when their parents are not in the vehicle.
Florida Department of Transportation Secretary Mike Dew said, "We work with our traffic safety partners to raise awareness about safety belt use. Safety belts save lives. We won't stop until all drivers and all passengers buckle up. Every trip, every time."
"We are proud to partner with the Department of Highway Safety and Motor Vehicles to promote safe driving habits during Teen Driver Safety Week," said Commissioner of Education Pam Stewart. "The only way to take advantage of Florida's outstanding education system is to Arrive Alive. I hope that our state's parents and educators will take this opportunity to talk to the teens in their lives about the importance of safe driving."
"Thousands of teen drivers use our highways and roads every day, which is why teen driver safety is such an important element of better protecting our communities and residents," said Miami Shores Police Chief Kevin Lystad, President of the Florida Police Chiefs Association. "The FPCA is proud to be part of this effort throughout the state."
"One of the major goals of our Florida Sheriffs is to protect Florida's future by promoting public safety programs focused on our youth such as our Teen Driver Challenge program," said Walton County Sheriff Mike Adkinson, President of the Florida Sheriffs Association. "On behalf of our Sheriffs, I fully endorse Teen Driver Safety Week, October 15th – 21st as part of the Arrive Alive initiative."
"Teen Drivers are more likely to be involved in a crash than anyone else on the road," said Amy Stracke, Managing Director of Traffic Safety Advocacy, AAA – The Auto Club Group and Executive Director, Auto Club Group Traffic Safety Foundation. "It is critical that during Teen Driver Safety Week, we focus on how this group can be safer both behind the wheel and as passengers."
FLHSMV encourages parents and adults to take the time to talk with teenagers about the importance of buckling up and share that message with their friends. For affirmative We Arrive Alive statements, shareable graphics and more, visit the FLHSMV's website https://www.flhsmv.gov/safety-center/driving-safety/teen-drivers/ and encourage teens to use the hashtag #WeArriveAlive throughout the week to add and share important teen driving safety information.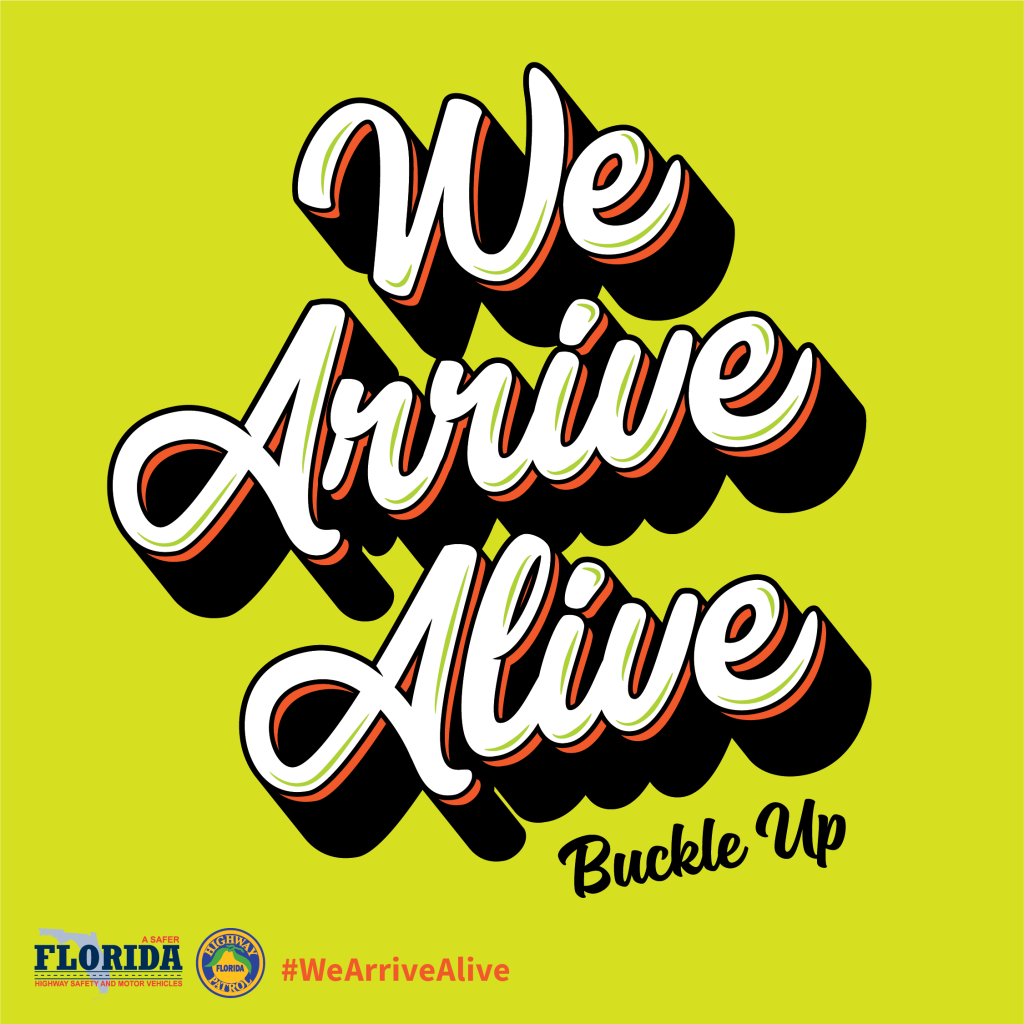 The Florida Department of Highway Safety and Motor Vehicles provides highway safety and security through excellence in service, education and enforcement. The Department is leading the way to A Safer Florida through the efficient and professional execution of its core mission: the issuance of driver licenses, vehicle tags and titles and operation of the Florida Highway Patrol. To learn more about FLHSMV and the services offered, visit www.flhsmv.gov, follow us on Twitter @FLHSMV or find us on Facebook. For safe driving tips and techniques, download the official Florida Driver License Handbook.