The Florida Highway Patrol Announces New Deputy Director
~ Chief Troy Thompson of FHP's Office of Commercial Vehicle Enforcement promoted to Lt. Colonel ~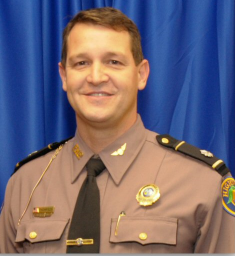 TALLAHASSEE – Florida Highway Patrol (FHP) Director, Colonel Gene Spaulding, announced Chief Troy Thompson as Deputy Director of the Florida Highway Patrol effective today, October 6, 2017. Lieutenant Colonel Troy Thompson is a 24-year law enforcement veteran who has most recently served as the Chief of Commercial Vehicle Enforcement with the FHP.
"Lieutenant Colonel Thompson is a forward-thinking leader who is dedicated to accomplishing the mission of the Patrol," said Colonel Spaulding. "Lt. Colonel Thompson will help secure the
agency's vision of A Safer Florida and carry on its proud traditions."
Lieutenant Colonel Thompson began his career with the Florida Department of Transportation's Office of Motor Carrier Compliance promoting to the rank of Captain. Since July 2011, Lieutenant Colonel Thompson has been with the Florida Highway Patrol and in September of 2013, was appointed to serve as the commander of FHP's Office of Commercial Vehicle Enforcement.
During his career, Lieutenant Colonel Thompson has served in many roles as a field trainer, first-line supervisor and commander. In each of these roles, Lieutenant Colonel Thompson developed his knowledge and skills by volunteering for additional duties such as training, coordinating outreach events and participating in specialized committees. In 2010, Lieutenant Colonel Thompson was awarded the Department of Transportation's Engineering & Operations Leadership Award and in 2011, was named to the Florida Trucking Association's Hall of Fame for his outreach efforts with the industry. From April 2013 – September 2016, Lieutenant Colonel Thompson served as the Region II President for the Commercial Vehicle Safety Alliance (CVSA) where he served on CVSA's Board of Directors and Finance Committee.
Lieutenant Colonel Thompson holds a Bachelor's Degree from the University of South Florida and is also a graduate of the 2008 Federal Bureau of Investigation's National Academy, Class 234.
The Florida Department of Highway Safety and Motor Vehicles provides highway safety and security through excellence in service, education and enforcement. The Department is leading the way to A Safer Florida through the efficient and professional execution of its core mission: the issuance of driver licenses, vehicle tags and titles and operation of the Florida Highway Patrol. To learn more about DHSMV and the services offered, visit www.flhsmv.gov, follow us on Twitter @FLHSMV or find us on Facebook. For safe driving tips and techniques, download the official Florida Driver License Handbook.