ECI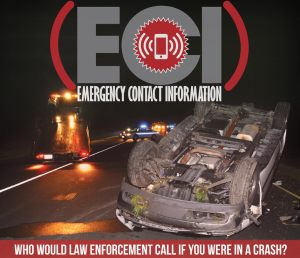 If you were in a crash and your cell phone was completely destroyed, how would your family and friends be notified? Register your emergency contact information (ECI) into the FLHSMV system and law enforcement will be able to contact your loved ones for you quickly, even across state lines.
The Florida Department of Highway Safety and Motor Vehicles (FLHSMV), Senator Bill Galvano and Christine Olson of To Inform Families First (TIFF) are recognizing the 10-year anniversary of Florida's emergency contact information (ECI) system.
On October 2, 2006, Christine Olson became the first person to register ECI in Florida, creating the first ever ECI program in the nation. Ten years later, almost 11.5 million, or approximately 66 percent of Floridians with driver licenses and ID cards, have registered their ECI and other states have since replicated the program.
Click here for more information.