Florida Highway Patrol Partners with East Coast States in the National Drive To Save Lives Campaign
~ Troopers Aim to Reduce Traffic Fatalities on the I-95 Corridor ~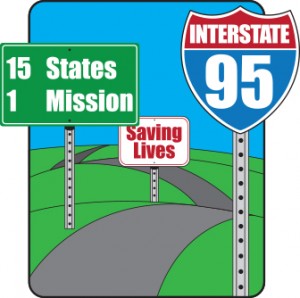 TALLAHASSEE, Fla. – The Florida Highway Patrol is teaming up with the state police, highway patrols and local law enforcement jurisdictions of every state along the Eastern Seaboard containing a portion of Interstate 95 (I-95) in an effort to keep one of the nation's major interstate corridors safe and fatality-free, December 26 – 31, 2015.
"The enforcement effort is aimed at saving lives along one of our nation's busiest highways," said Col. Gene Spaulding, Director of the Florida Highway Patrol. "The partnerships we have formed with the other states have demonstrated the Patrol's commitment to public safety, because no matter what state you are traveling to or from, we want you to arrive at your destination safely."
I-95 is a major travel corridor along the East Coast, and the Christmas to New Year's holiday season is among the busiest long-distance travel period of the year. More than 33,000 deaths occur each year on our nation's highways, making highway fatalities one of the top 12 causes of death within the United States and the leading cause of death among teens.
This will be the third participation this year for FHP in the multistate campaign to reduce highway traffic fatalities along the I-95 corridor.  The campaign focuses on the use of seatbelts and speeding; and targets impaired and distracted driving on highways. Through the Drive to Save Lives campaign, state police and highway patrol leaders are working to change the high-risk behaviors of motorists that lead to crashes through education and awareness, partnerships and high-visibility traffic enforcement. The previous campaign from August 4-9, 2015 was a success for the Florida Highway Patrol, with no fatalities reported on I-95 during the enforcement period in Florida.
The public is encouraged to report aggressive or impaired drivers by dialing *FHP (*347). Remember to check traffic conditions before you leave for your trip. For more information, real time traffic conditions and additional travel information, visit: https://www.flhsmv.gov/florida-highway-patrol/traffic-incidents-by-region/.
The Florida Department of Highway Safety and Motor Vehicles provides highway safety and security through excellence in service, education and enforcement. The Department is leading the way to a safer Florida through the efficient and professional execution of its core mission: the issuance of driver licenses, vehicle tags and titles and operation of the Florida Highway Patrol. To learn more about FLHSMV and the services offered, visit www.flhsmv.gov, follow us on Twitter @FLHSMV or find us on Facebook.