Florida Cabinet Recognizes Florida Highway Patrol Trooper of the Year
~ Trooper Bradford Wagner receives distinguished award ~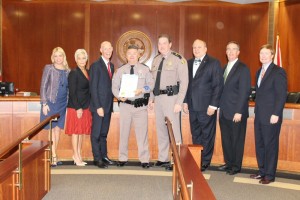 TALLAHASSEE, FL – On December 8, 2015 the Florida Cabinet honored Trooper Bradford Wagner as the Florida Highway Patrol (FHP) 2015 Trooper of the Year. Trooper Wagner is assigned to FHP Troop K in Land O'Lakes, FL. He has been with the Patrol for over 25 years.
"On two separate occasions, Trooper Wagner's instincts and training has saved lives," said Colonel Gene Spaulding, Director of the Florida Highway Patrol. "The Patrol is grateful to the Governor and Cabinet for providing this special recognition to Trooper Wagner."
On September 18, 2014, Trooper Wagner saw and responded to a single vehicle rollover crash where the driver was ejected and came to rest on the roadway, unconscious and not breathing. Through his lifesaving actions, Trooper Wagner was able to get the driver breathing again and maintained care until emergency medical services arrived.
On November 27, 2014, while driving on the Suncoast Parkway, Trooper Wagner saw a man standing next to his parked vehicle frantically waving for help. Upon stopping, Trooper Wagner saw the man's wife unconscious in the front seat of the car. Trooper Wagner acted immediately to free her airway and save her life.
The Trooper of the Year award was created in 1965 by the Florida Petroleum Council to recognize Florida Highway Patrol Troopers for the work they do each day to ensure a Safer Florida.
The Florida Department of Highway Safety and Motor Vehicles provides highway safety and security through excellence in service, education and enforcement. The Department is leading the way to a safer Florida through the efficient and professional execution of its core mission: the issuance of driver licenses, vehicle tags and titles and operation of the Florida Highway Patrol. To learn more about FLHSMV and the services offered, visit www.flhsmv.gov, follow us on Twitter @FLHSMV or find us on Facebook.