6.6 Tons of Food Collected for Florida Families
~ 'Stuff the Charger' food drive exceeded goals~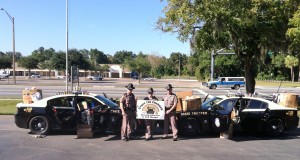 TALLAHASSEE, Fla.— For the second year in a row, the Department of Highway Safety and Motor Vehicles helped collect food around the state for Florida families during the upcoming holiday season. Earlier this month, the donated food was loaded into Florida Highway Patrol Chargers and delivered to local food banks.
"Having a healthy meal while being surrounded by family is what makes the holidays so enjoyable," said Department of Highway Safety and Motor Vehicles Executive Director Terry L. Rhodes. "We were so proud to play a small role in making the holiday season special for those in need."
Nearly seven tons of food were collected during the event and distributed to the following locations:
America's Second Harvest of the Big Bend, Tallahassee;
Christian Service Center, Lake City/Cross City;
St. Francis House, Gainesville;
Feeding America Tampa Bay, Tampa;
Harry Chapin Food Bank of Southwest Florida, Fort Myers;
Feeding South Florida's, Pembroke Park;
Manna Food Bank, Pensacola; and
Orlando Rescue Mission, Orlando.
The Florida Department of Highway Safety and Motor Vehicles provides highway safety and security through excellence in service, education and enforcement. The Department is leading the way to a safer Florida through the efficient and professional execution of its core mission: the issuance of driver licenses, vehicle tags and titles and operation of the Florida Highway Patrol. To learn more about FLHSMV and the services offered, visit www.flhsmv.gov, follow us on Twitter @FLHSMV or find us on Facebook.