New Specialty Plates to Support Law Enforcement
 ~These specialty plates arrive in tax collector offices this week~
The Florida Department of Highway Safety and Motor Vehicles (FLHSMV) is proud to announce two new specialty plates available now for purchase. The Fallen Law Enforcement and Florida Sheriff's Association plates will be available in all tax collector offices by November 6, 2015 to be proudly displayed on Florida registered vehicles.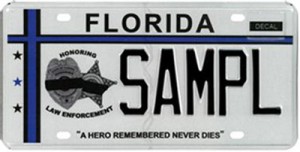 The Fallen Law Enforcement plate was created by the Criminal Justice Academy class of 2014 at Pinellas Park High School in Largo, FL. The plate, memorializing fallen law enforcement officers, is $25 in addition to state registration fees. A portion of revenue generated from sales will go towards the Police and Kids Foundation, Inc. to invest in the operation of the foundation. More information can be found at www.policeandkids.com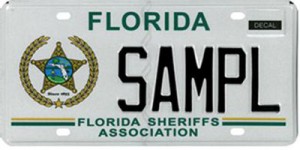 Founded in 1893, the Florida Sheriff's Association is made up of 67 Sheriffs of Florida to support the needs of the state's law enforcement community. The purchase of this $25 specialty tag, on top of regular registration fees, will be used to develop and provide advanced and specialized training for criminal justice officers. Visit their website to learn more, www.flsheriffs.org.
Floridians can now select from 124 specialty plate designs that were created to support collegiate, environmental, wildlife, military, sports, and special interest groups. The designs can be viewed on the FLHSMV website at https://www.flhsmv.gov/html/tagbrochure.pdf.
The Florida Department of Highway Safety and Motor Vehicles: providing A Safer Florida by securely maintaining the records of more than 19 million registered vehicles and over 15 million licensed drivers, as well as providing safe travel along Florida's highways. To learn more about FLHSMV and the services offered, visit www.flhsmv.gov, follow us on Twitter @FLHSMV or find us on Facebook.