"Stuff the Charger" Thanksgiving Food Drive Begins
~ FLHSMV is driving forward to end hunger~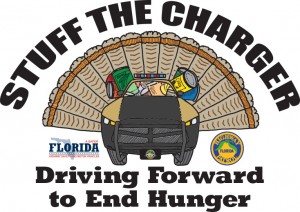 TALLAHASSEE, Fla. – This week Florida Department of Highway Safety and Motor Vehicles announced the start of its annual "Stuff the Charger" Thanksgiving food drive. Through November 7, 2015, the Department will be collecting non-perishable food donations for Florida's families in partnership with food banks across the state.
"The men and women of the Florida Highway Patrol are committed to helping the residents of Florida," said Col. Gene Spaulding, director of the Florida Highway Patrol. "The Thanksgiving holiday is about coming together with family and serving those in need, which is why the members of the Department are working for this very meaningful food drive."
Throughout the 2014 food drive, the department collected more than three tons of food for families throughout Florida. With the help of Floridians across the state, the department has set a goal to double that total this year.
The Department will be accepting non-perishable food donations at each FHP troop headquarters across the state to include General Headquarters in Tallahassee and driver license offices in Volusia, Miami-Dade and Broward counties. For a complete list of drop off locations, please visit: https://www.flhsmv.gov/florida-highway-patrol/stuff-the-charger-food-drive/
The Florida Department of Highway Safety and Motor Vehicles provides highway safety and security through excellence in service, education and enforcement. The Department is leading the way to a safer Florida through the efficient and professional execution of its core mission: the issuance of driver licenses, vehicle tags and titles and operation of the Florida Highway Patrol. To learn more about FLHSMV and the services offered, visit www.flhsmv.gov, follow us on Twitter @FLHSMV or find us on Facebook.