Aggressive Drivers Think Twice
~FHP looking for dangerous driving behavior ~
TALLAHASSEE, Fla. – Beginning today, the Florida Highway Patrol's (FHP) commercial vehicle enforcement troopers will begin another phase of Ticketing Aggressive Cars and Trucks (TACT), a safety campaign aimed at educating motorists about the dangers of aggressive driving around large trucks and to reduce commercial motor vehicle related crashes.
"The safety of all motorists is our number one priority,"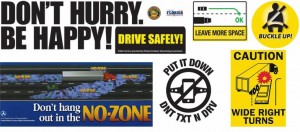 said Chief Troy Thompson of the Florida Highway Patrol. "Exercising patience when driving around large trucks and other vehicles will help to ensure the safety of everyone on the roadway."
The TACT campaign runs from October 23 through November 5, 2015. Large trucks can be as long as eighty feet and weigh up to twenty tons.  The large size also means it takes them forty percent longer to stop than smaller vehicles. Troopers will be looking for car and truck drivers who display aggressive driving behavior such as following too closely, speeding and unsafe lane changes. Protect yourself, your passengers and others on the roadway and safely share the road.
For more information about TACT and FHP's Commercial Motor Vehicle Enforcement, visit: https://www.flhsmv.gov/safety-center/share-the-road/ticketing-aggressive-cars-and-trucks/
The Florida Department of Highway Safety and Motor Vehicles provides highway safety and security through excellence in service, education and enforcement. The Department is leading the way to a safer Florida through the efficient and professional execution of its core mission: the issuance of driver licenses, vehicle tags and titles and operation of the Florida Highway Patrol. To learn more about FLHSMV and the services offered, visit www.flhsmv.gov, follow us on Twitter @FLHSMV or find us on Facebook.