Operation Safe Driver Week
~Trucks, buses, and cars can safely share the highway~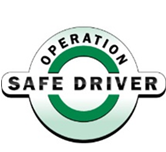 TALLAHASSEE, Fla. – There were more than 344,000 vehicle crashes in Florida last year. To help save lives and reduce the number of crashes involving commercial motor vehicles (CMV), the Florida Highway Patrol has partnered with the Commercial Vehicle Safety Alliance (CVSA) for Operation Safe Driver. The campaign, which runs from Oct. 18-24, is intended to increase safe driving awareness around large trucks, and also increase safety compliance with commercial truck operators.
"Whether driving in a large truck or in a small car, driving requires your constant attention," said, Chief Troy Thompson of FHP's Commercial Vehicle Enforcement (CVE) bureau. "Buckle up, get plenty of rest, be patient, don't drive distracted and designate a sober driver before hitting the roads."
Although troopers perform this work every day, during Operation Safe Driver, FHP's CVE troopers will emphasize traffic safety education and enforcement details that focus on dangerous driving behaviors such as speeding, following too closely, unsafe lane changes and distracted driving.
•Buckle up! Every time you get in your vehicle. Remember, seat belts save lives.
•Slow down. Obey all posted speed limits and slow down if conditions warrant a slower speed.
•Don't tailgate! Following too closely reduces your visibility of the road ahead and also reduces your reaction time. Maintain a minimum following distance from the vehicle ahead of you of one car length for every 10 miles per hour of speed.
•Never cut in front of a commercial motor vehicle or bus. A fully-loaded CMV can take up to 400 feet or more (well over the length of a football field) to stop.
•Don't drive distracted. Distracted driving can lead directly to extremely hazardous driving behaviors including speeding, following too closely and erratic lane usage. Distractions also reduce a driver's reaction time when responding to a dangerous situation.
The Florida Department of Highway Safety and Motor Vehicles: providing A Safer Florida by securely maintaining the records of more than 19 million registered vehicles and over 15 million licensed drivers, as well as providing safe travel along Florida's highways. To learn more about FLHSMV and the services offered, visit www.flhsmv.gov, follow us on Twitter @FLHSMV or find us on Facebook.