The Florida Highway Patrol Announces New Southern Region Chief
~ Troop D Major promoted to Chief ~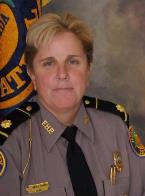 TALLAHASSEE– Florida Highway Patrol (FHP) Director, Colonel Gene Spaulding, announced that Major Cynthia Williams will be the new Southern Region Chief of the Patrol effective September 4, 2015 and will lead FHP operations throughout South Florida. As the Troop Commander of Troop D since 2009 and Acting Southern Region Chief for nearly the last six months, Chief Williams is well-versed in FHP's operations throughout Central and South Florida.
"Over the last 29 years with the Patrol, Chief Williams has gained invaluable knowledge and experience that she will bring to her new position," said Colonel Gene Spaulding. "Chief Williams is a remarkable leader and is the right person to lead the Southern Region as the Patrol moves forward."
Chief Williams graduated from the 76th FHP Basic Recruit Class in August of 1986 and was stationed in Troop D, Orlando. She served on the Troop D's DUI Task Force from 1988 to 1993 and the Community Policing Unit from 1996 to 1998. In January of 2000, she was promoted to Traffic Homicide Sergeant assigned to Brevard County. In June of 2003, she was promoted to Lieutenant in the Bureau of Investigations in Troop Q, Orlando. In 2006, she was promoted to Captain in Troop C, Lakeland, where she was responsible for Polk and Hillsborough Counties as the District Commander in Patrol Operations. In July 2009, she was appointed to the rank of Major and assumed the position of Troop Commander for Troop D. Chief Williams is a graduate of the 224th Session of the FBI National Academy and graduated from the Leadership in Police Organizations class held by the IACP in 2010. She attended the University of Central Florida and holds an AA degree from Valencia College.
The Florida Department of Highway Safety and Motor Vehicles: providing A Safer Florida by securely maintaining the records of more than 19 million registered vehicles and over 15 million licensed drivers, as well as providing safe travel along Florida's highways.  To learn more about FLHSMV and the services offered, visit www.flhsmv.gov, follow us on Twitter @FLHSMV or find us on Facebook.