Drowsy Driving is Dangerous Driving
~Snooze at home, not behind the wheel ~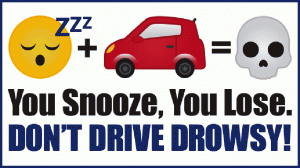 TALLAHASSEE, Fla.— Driving while tired can be just as dangerous as driving while intoxicated.  Fatigue behind the wheel can lead to loss of concentration and even falling asleep at the wheel, sometimes with tragic results.  Whether it's due to lack of sleep or taking medication that makes you drowsy, the Department of Highway Safety and Motor Vehicles and the Florida Department of Transportation are teaming up with safety advocates to bring awareness to the dangers of drowsy driving during Florida's Drowsy Driving Prevention Week on September 1–6.
"Florida had 14 fatalities in vehicle crashes last year due to drowsy driving," said Department of Highway Safety and Motor Vehicles Executive Director Terry L. Rhodes.  "We are proud to partner with Ronshay Dugans' family and the Florida Department of Transportation to highlight the importance of drivers being well-rested behind the wheel to keep themselves, their passengers and other road users safe".
Florida Department of Transportation (FDOT) Secretary Jim Boxold said, "Providing a safe transportation system for our residents and visitors is the most important thing we do at FDOT. I am proud to continue our partnership with the Department of Highway Safety and Motor Vehicles to promote awareness of Drowsy Driving Prevention Week. FDOT encourages motorists to stay alert while on the roads and use our welcome centers, service plazas and rest areas when they need to take a break from driving."
It is always important to rest before driving but there are other steps to take to prevent drowsy driving.
Avoid driving at times when you would normally be asleep.
Read the warning information on all medications you take.       If it will make you drowsy, do not drive a vehicle.
On long trips, take a break every 2 hours.
If you start feeling tired while driving, pull over in a safe place and take a nap if you can.
Use the "buddy system," and switch drivers when needed.
Drink caffeine. Two cups of coffee can increase alertness for several hours.
Always driver sober. Even one drink is too many.
The Florida Department of Highway Safety and Motor Vehicles provides highway safety and security through excellence in service, education and enforcement.  The Department is leading the way to a safer Florida through the efficient and professional execution of its core mission: the issuance of driver licenses, vehicle tags and titles and operation of the Florida Highway Patrol.  To learn more about FLHSMV and the services offered, visit www.flhsmv.gov, follow us on Twitter @FLHSMV or find us on Facebook.