DHSMV Promotes Gene Spaulding to Florida Highway Patrol Director
~ 22 year veteran to lead the Patrol~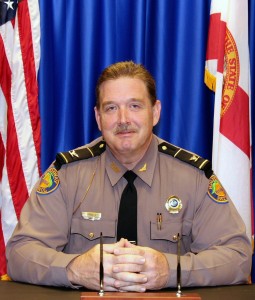 TALLAHASSEE, Fla.— The Department of Highway Safety and Motor Vehicle's Executive Director Terry L. Rhodes has announced the promotion of Gene Spaulding to become the next Florida Highway Patrol Director, effective Aug. 21, 2015.  Colonel Spaulding brings 22 years of law enforcement knowledge and experience of serving the residents and visitors of Florida to this position.
"Having the honor of choosing the Colonel of the Florida Highway Patrol was one of the most significant decisions I will make as Executive Director," said Terry L. Rhodes, Executive Director of the Department of Highway Safety and Motor Vehicles.  "I am confident Colonel Gene Spaulding is the right person to effectively lead the Patrol in the years ahead.  He brings a field perspective to the Patrol while continuing the traditions that make the Florida Highway Patrol, quite simply, Florida's Finest."
Colonel Spaulding graduated from the 87th Basic Recruit Class on May 21, 1993.  Since then, he has served in five Troops throughout the state beginning in Troop K before transferring to Troop G.  He promoted to Sergeant in 1997, moving to Troop D in 2000.  In 2001, he was promoted to Lieutenant in Troop Q, Bureau of Investigations before transferring back to Troop G as a District Lieutenant.  In 2005, Colonel Spaulding was promoted to Captain.  He was promoted to Troop Commander in 2010 serving in Troop B.  Most recently, he has served as Troop G's Commander since 2014.  In addition, Colonel Spaulding holds a B.A. in Criminal Justice Administration from Columbia College.
The Florida Department of Highway Safety and Motor Vehicles: providing A Safer Florida by securely maintaining the records of more than 19 million registered vehicles and over 15 million licensed drivers, as well as providing safe travel along Florida's highways.  To learn more about DHSMV and the services offered, visit www.flhsmv.gov, follow us on Twitter @FLHSMV or find us on Facebook.