Troopers Honored For Top DUI Enforcement
~ Hurd-Smith winner named at MADD ceremony ~
TALLAHASSEE, Fla. – Trooper Jose Ramirez has been named the Florida Highway Patrol's 2015 Hurd-Smith Award winner.  The award, given to the FHP trooper with the most Driving Under the Influence (DUI) arrests in a single year, was named in honor of two troopers who were killed in the line of duty by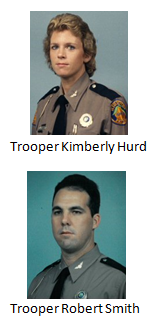 impaired drivers, Trooper Kimberly Hurd and Trooper Robert Smith.  Trooper Ramirez made 131 DUI arrests in 2014.
"This is the third time Trooper Ramirez has been the recipient of the Hurd-Smith Award.  He was first recognized in 2012," said Florida Highway Patrol Lt. Colonel Ernesto Duarte.  "Trooper Ramirez has consistently pursued impaired drivers since he began his career with the Florida Highway Patrol.  We are proud of him and all our members for saving lives by removing impaired drivers from our roads."
Trooper Ramirez was honored during a Mothers Against Drunk Drivers (MADD) Law Enforcement Recognition ceremony in Ft. Lauderdale last Friday.  FHP has been recognizing troopers with the award for 18 years at the annual MADD event.
MADD and FHP also recognized six other troopers from across the state for their efforts to remove impaired drivers from the roadways by making more than 100 DUI arrests each in 2014:
Trooper Jose Ramirez (2012, 2013 & 2014 Hurd-Smith winner), Troop D
Trooper Deborah Hawkins, Troop D
Trooper William Mathers, Troop A
Trooper Richard Behrenshouser, Troop D
Trooper Pedro Hernandez, Troop E
Trooper Gregory Healy, Troop G
Trooper James Larose, Troop C
The Florida Department of Highway Safety and Motor Vehicles: providing A Safer Florida by securely maintaining the records of more than 19 million registered vehicles and over 15 million licensed drivers, as well as providing safe travel along Florida's highways.  To learn more about FLHSMV and the services offered, visit www.flhsmv.gov, follow us on Twitter @FLHSMV or find us on Facebook.