FHP Joins National Effort to Combat Aggressive Driving
~Patience is a virtue while traveling on the roads~
TALLAHASSEE, Fla. – Beginning today, the Florida Highway Patrol's Commercial Vehicle Enforcement troopers will begin another phase of Ticketing Aggressive Cars and Trucks (TACT), a safety campaign aimed at educating motorists about the dangers of aggressive driving when driving around large trucks on the road.
"The safety of all motorists is our number one priority," said Lt. Colonel Troy Thompson, Deputy Director of the Florida Highway Patrol. "Exercising patience when driving around large trucks and other vehicles will help to ensure the safety of everyone on the roadway."
The TACT campaign runs from July 31st – August 13th. Troopers will be looking for car and truck drivers who display aggressive driving behavior such as following too closely, speeding and unsafe lane changes.
Protect yourself, your passengers and others on the roadway by learning how to safely share the road. FHP offers the following tips for driving around large trucks: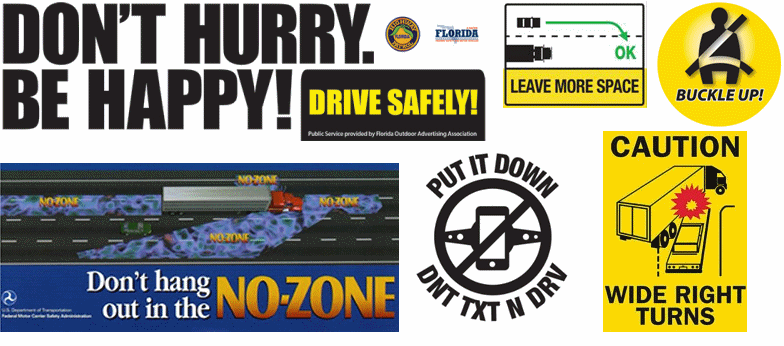 For more information about TACT and FHP's Commercial Motor Vehicle Enforcement, visit: https://www.flhsmv.gov/safety-center/share-the-road/ticketing-aggressive-cars-and-trucks/
The Florida Department of Highway Safety and Motor Vehicles: providing A Safer Florida by securely maintaining the records of more than 19 million registered vehicles and over 15 million licensed drivers, as well as providing safe travel along Florida's highways.  To learn more about FLHSMV and the services offered, visit www.flhsmv.gov, follow us on Twitter @FLHSMV or find us on Facebook.