Florida Highway Patrol Pays Tribute to Fallen Officers in Nation's Capital
~FHP Trooper Chelsea Richard's name added to National Memorial Wall~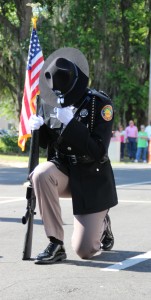 TALLAHASSEE, Fla. – Florida Highway Patrol Colonel David Brierton and members of the Florida Highway Patrol traveled to Washington, D.C. last week to attend the National Police Week ceremonies. The annual event, now in its 34th year, honored the men and women of law enforcement who gave the ultimate sacrifice in the name of public safety.
In 2014, 117 law enforcement officers were killed in the line of duty across the United States last year, including six officers in Florida, one of those, FHP Trooper Chelsea Richard whose name was added to the wall this week. Trooper Richard was struck and killed May 3, 2014 while investigating a traffic crash in Marion County.
National Police Week ceremonies included the National Law Enforcement Honor Guard Competition which took place at the U.S. Capitol Building. On Thursday, May 14, the Florida Highway Patrol's Honor Guard participated for the first time in this prestigious competition, which is an opportunity for Honor Guards from across the nation to pay tribute to fallen law enforcement officers and their families.
"We are proud of the men and women who wear the badge with honor and dedication, while serving and protecting their communities," said Colonel David Brierton, director of the Florida Highway Patrol. "Law enforcement is an honorable profession filled with dedicated people who serve the residents and visitors of this great State."
The Florida Department of Highway Safety and Motor Vehicles: providing A Safer Florida by securely maintaining the records of more than 19 million registered vehicles and over 15 million licensed drivers, as well as providing safe travel along Florida's highways.  To learn more about FLHSMV and the services offered, visit www.flhsmv.gov, follow us on Twitter @FLHSMV or find us on Facebook.