Miami Dolphins Specialty License Plate Sports New Look
~The redesigned plate will be available to the public in coming days~
TALLAHASSEE, Fla. —The Miami Dolphins specialty license plate is sporting a new look.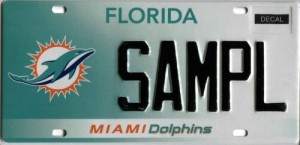 The redesigned plate features an updated version of the Dolphins' logo in the team colors of aqua and orange. Copies of the revised plate were shipped to county tax collector offices and tag agencies last week and will be made available to the public in the coming days.
The Miami Dolphins tag was the 28th best-selling specialty plate in Florida last year with more than 15,000 sold. It was first issued in 1995. The cost of the specialty plate is $25, in addition to the regular vehicle registration fees. Revenue generated by its sale goes to the Professional Sports Development Trust Fund and the Florida Sports Foundation.
Click here for a complete list of Florida's 123 specialty license plates.
The Florida Department of Highway Safety and Motor Vehicles: providing A Safer Florida by securely maintaining the records of more than 19 million registered vehicles and over 15 million licensed drivers, as well as providing safe travel along Florida's highways.  To learn more about FLHSMV and the services offered, visit www.flhsmv.gov, follow us on Twitter @FLHSMV or find us on Facebook.