What's Your Game Plan for Super Bowl Sunday?
~Fans don't let fans drive drunk ~
TALLAHASSEE, Fla. – The Super Bowl is America's most watched national sporting event. On Sunday, February 1, many Super Bowl parties will feature pizza, wings, and yes…alcohol. That's why the Florida Highway Patrol is urging football fans to choose sides before the game:  are you drinking OR driving?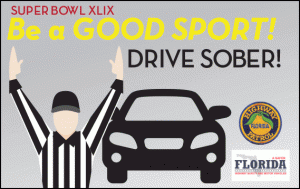 "Impaired driving is completely preventable," said Colonel David Brierton, director of the Florida Highway Patrol. "All it takes is a little planning ahead. We want fans to remember that it is a choice. Drink or drive—but, never do both."
FHP's game plan for a safe Sunday:
Make transportation arrangements before you begin drinking.
Designate a sober driver, call a taxi, or use public transportation to get home safely.
Even one drink increases the risk of a crash while driving. Do not let anyone who has been drinking get behind the wheel.
If you see an impaired driver on the road, call *FHP (*347).
Play a key role on Super Bowl Sunday—if you aren't going to drink, volunteer to be a designated driver. You may just keep someone from becoming a tragic game day statistic.
The Florida Department of Highway Safety and Motor Vehicles: providing A Safer Florida by securely maintaining the records of more than 18 million registered vehicles and over 15 million licensed drivers, as well as providing safe travel along Florida's highways. To learn more about FLHSMV and the services offered, visit www.flhsmv.gov, follow us on Twitter @FLHSMV or find us on Facebook.