Giving a Boost to Child Safety
~ Child restraint laws change in January 2015 ~
TALLAHASSEE, Fla.— In 2013, 5 children were killed and 150 injured in Florida traffic crashes as a result of improper or no child restraint use. To date, 5 children have been killed and 145 injured for the same reason in 2014. The Florida Department of Highway Safety and Motor Vehicles is reminding parents and guardians with young children of an upcoming change in the Florida Child Restraint Law.  Beginning January 1, children ages 4 and 5 will be required to sit in a child safety seat or a booster seat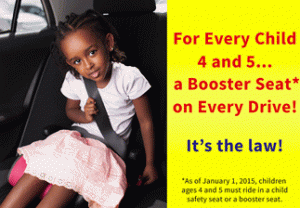 rather than only being buckled in a seatbelt.
According to the Centers for Disease Control and Prevention, booster seat use reduces the risk for serious injury by 45% for children ages 4–8 years when compared with seat belt use alone.
"Safety belts save lives, but only when used and used correctly," said Terry Rhodes, Executive Director of the Department. "Booster seats help elevate children to the height at which the safety belt will properly secure them."
Many children may need booster seats beyond the age required by law, depending on the size of the child and where the seatbelt crosses the body. The following recommendations can help determine if your child, after age 5, is ready to wear a seatbelt without a booster seat:
the child is at least 4'9" tall;
the child can sit all the way back in the seat and bend knees at the edge of the seat;
the shoulder belt lays across the chest, not the neck;
the lap belt lays across the upper thighs, not the stomach.
Children under the age of 13 should ride in the back seat of the vehicle whenever possible for additional safety.
There are hundreds of certified Child Passenger Safety technicians in Florida.  For more information and to locate the nearest child car seat inspection station, visit: nhtsa.gov/recalls.
The Florida Department of Highway Safety and Motor Vehicles provides highway safety and security through excellence in service, education and enforcement.  The Department is leading the way to a safer Florida through the efficient and professional execution of its core mission: the issuance of driver licenses, vehicle tags and titles and operation of the Florida Highway Patrol.  To learn more about FLHSMV and the services offered, visit www.flhsmv.gov, follow us on Twitter @FLHSMV or find us on Facebook.